Gift Shoppe
Support the animals featured on Hobby Farm Dreams by shopping our Gift Shoppe. All posters, prints, calanders and note cards feature photographs that were taken on Rivers Critters Ranch of actual animals that live and are raised on our hobby farm, Rivers Critters Ranch.
All posters are accompanied by a Certificate of Guarantee that is signed by one of the owners/operators of Rivers Critters Ranch. On the reverse side of this guarantee you will find a story about the picture.
ID:

CAL2014
Calander 2014

Price:

$14.99
RCR 2014 Calendar
ID:

FRMSmall
Frame

Price:

$24.99
Frame Description
Framed Posters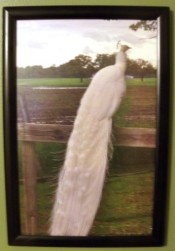 Peaceful Moment
Posters are framed in a slim profile black matte frame which features a snap opening that is easy to use. It can be mounted in the vertical or landscape position and includes the required screws and anchors for hanging. The frames overall dimensions are 12 3/16" x 18 3/16" with the visible are of 10 1/4" by 16 1/4".