Item #

FPAB20131106

Product:

Framed Poster After Noon Bath

Description:

This framed 11" x 17" poster features David, one of our white peacocks. The photograph caught him taking a bath on one of our fences. It is printed on a 10 pt. card stock with a soft gloss finish which features an AQ (aqueous) coating. The poster is accompanied by a Certificate of Guarantee.

Price:

$34.95

Afternoon Bath

Story coming soon.
Framed Posters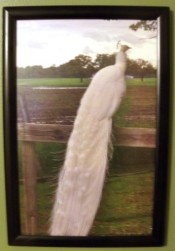 Peaceful Moment
Posters are framed in a slim profile black matte frame which features a snap opening that is easy to use. It can be mounted in the vertical or landscape position and includes the required screws and anchors for hanging. The frames overall dimensions are 12 3/16" x 18 3/16" with the visible are of 10 1/4" by 16 1/4".